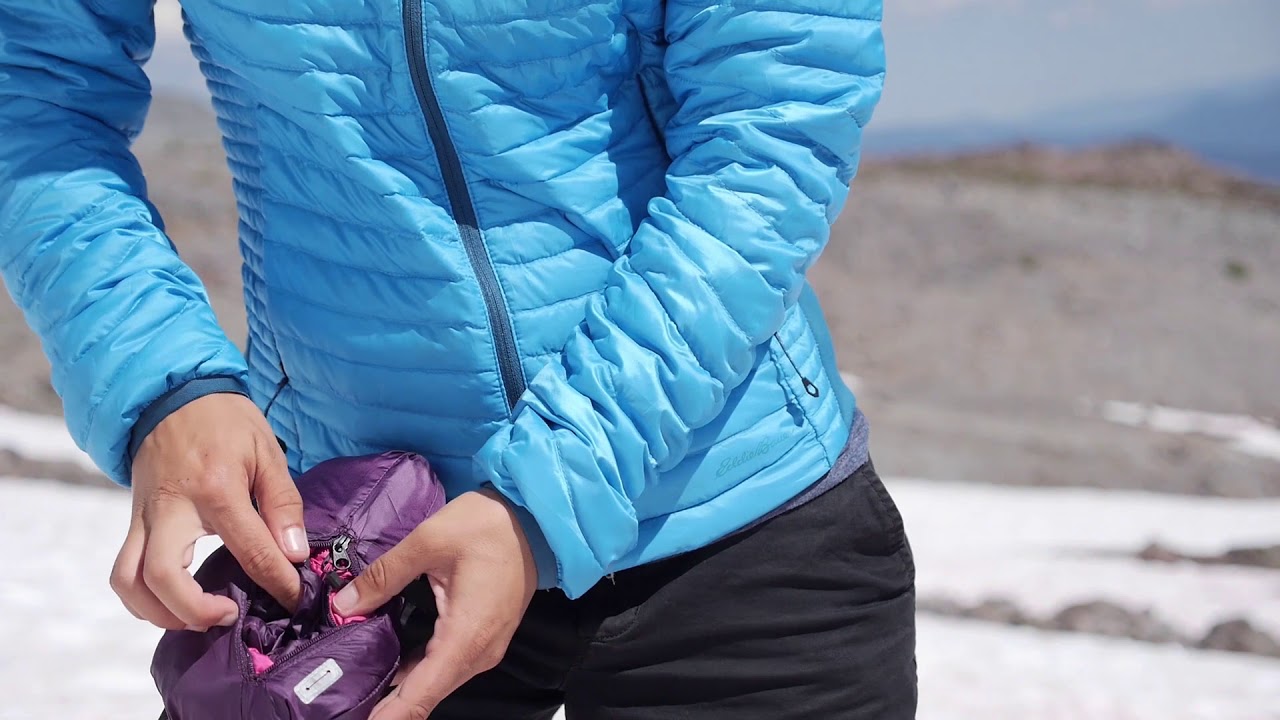 "Eddie Bauer Centennial Collection Microtherm 1000 puffy" is somewhat of a significant piece. Such countless words. How about we separate that. The Centennial Collection is a line of retro-enlivened open air clothing dispatched last year by Eddie Bauer to commend the organization's 100th birthday celebration. The MicroTherm 1000 is a piece of that assortment: it's a puffy, clearly, and it's the most recent in a line of MicroTherm down coats.
The coat was roused by Eddie Bauer's clear as crystal 1957 Down Shirt, which the organization credits as presenting the idea of ultralight layering frameworks in the open air local area. What makes the MicroTherm 1000 stand apart is the utilization of three ounces of 1000-fill (also known as exceptionally grandiose) down.
What does the entirety of this mean as far as execution and worth? Does the beneficiary clear of Eddie Bauer's ultralight layering heritage satisfy everyone's expectations?
Eddie Bauer MicroTherm 1000 Puffy At-a-Glance
MSRP: $399
Weight: 10 oz
Fill weight: 3.2 oz
Materials:
1000-fill Responsible Down Standard (RDS) goose down protection
100% reused nylon face texture w/DWR finish
These specs are for a men's medium (I tried a ladies' little).
How We Tested It
I tried the MicroTherm 1000 in a ladies' little on different icebound climbs along the North Country Trail in Allegheny National Forest and Philadelphia's Wissahickon Park trail framework in January, February, and March. I likewise wore it around the house (which I regularly keep warmed to 45 degrees) and on blanketed strolls around the neighborhood all through the colder time of year. In my testing, I never wore it for the most part on breaks, around camp, to avoid the early morning chill while strolling—never during substantial movement when I may perspire in it. The coat considered temperatures to be high as 50 degrees Fahrenheit and as low as three degrees, just as high breezes, snow, and hail.
Highlights
Packable: The MicroTherm 1000 packs down to generally the size of a knotty Nalgene in its own zippered inner chest pocket. The 1000-fill down in this article of clothing is exceptionally compressible, and this coat could without a doubt crush down significantly more modest if pack space is at a higher cost than normal.
Stretch-sew boards under armpits: The polyester/spandex mix improves versatility and gives a uninsulated spot to your 'pits to dump heat. The material feels stretchy and enjoyably fluffy, however it likewise watches out for pill.
Execution fit: Slim (not tight) fit = improved versatility and warm productivity, diminished weight, and it's not difficult to fit an external shell layer over top on additional cold/stormy/blustery days.
Broken channels: Roughly one-inch-long segments of vertical sewing converge every level channel at normal, balance spans. This makes irregular, zigzaggy channels that make it harder for down to relocate and bunch. The motivation behind this plan is to get the advantages of an all the more firmly puzzled coat (i.e., less down relocation and a slimmer fit) without as numerous creases (sewing will in general make undesirable virus spots and flimsy parts for potential texture disappointment).
1000-fill down protection: Yep, this is a thing. Premium materials are the situation with this coat, and the MicroTherm 1000 figures out how to give a brilliant warmth-t0-weight proportion to a great extent because of the utilization of super elevated 1000-fill goose down.
About the Materials
Down protects by catching warm air, and its capacity to do this is a component of the down's space, or cushiness. Fill power (the volume, in cubic centimeters, that one ounce of down will cushion up to possess in a round and hollow holder) is an estimation of space. Tl;dr: higher fill power = more space/higher warmth-to-weight proportion/better quality/more costly.
650-fill down is standard for exploring gear, for the most part thought to be the base quality you should search for in specialized attire and camping cots. 850-fill is generally excellent, and 900-950 is commonly the most elite—just it's anything but. Significantly puffier 1000-fill down takes that crown. 1000-fill is an uncommon product on the grounds that most geese don't live long enough for their down bunches to develop to their full cushion potential. The exceptionally plain as day MicroTherm 1000 is protected with, as you may have speculated, 1000-fill down.
Curiously, Eddie Bauer decided to combine this ultralight-est of protection choices with a moderately burly 20D ripstop nylon shell. Interestingly, most makers fiddling with 1000-fill down are going to the max ultralight with vanishingly meager sub-10D shells.
Fit and Style
This current coat's thin fit is ideal for boondocks pursuits. I like the coziness of it, which limits drafts and amplifies warm effectiveness. The absence of irritating additional mass improves portability and saves weight. It likewise implies I can undoubtedly layer an external shell over top of the MicroTherm, however it is trying to easily fit anything over a base layer underneath it without evaluating.
The hood is elasticized and remains cozily set up—particularly when the coat is sped under my jawline. The hood and sleeve flexible have a decent arrangement of stretch and seal out the draft adequately. There is no flexible or snap rope around the hemline, which is a minor bummer. The coat has three zippered pockets: two at the front of the coat and one inside chest pocket.
Best Use
The MicroTherm 1000 is ideal for three-season explorers and through climbers who need to monitor their base weight yet esteem warmth and solace. It kept me warm as an independent midlayer down to around 45 degrees, underneath which I required extra layers to remain agreeable. That is a sensible lower limit for most shoulder season pursuits, however you might need to select something hotter from pre-winter to late-winter.
This coat finds some kind of harmony between warmth, weight, and solidness. There are lighter midlayers out there, yet the Eddie Bauer coat has more protection than those contributions. Essentially, while there are hotter/more protected coats out there, they will in general gauge and cost more. Need to keep a foot in the two camps? This is the midlayer for you.
Additionally, EB's offbeat decision to utilize a heftier 20D texture for this coat may speak to certain clients. It gauges more than the paper-slender materials supported by the opposition. In any case, then again, it doesn't feel like I'm wearing a $400 basic food item pack each time I put it on. I'll in any case child it, yet it seems like it's worked to last.
Eddie Bauer MicroTherm 1000 Pros
Dependably sourced materials: The Responsible Down Standard (RDS) accreditation exists as a route for customers to guarantee that their down-protected items came from empathetically raised geese. The MicroTherm 1000 is RDS-confirmed and furthermore includes a 100% reused nylon shell.
Insignificant down relocation: The irregular channel configuration functions as publicized. I haven't encountered any critical down movement or bunching inside the channels. No plumes or cushion jabbing through the shell texture so far all things considered. Limiting the quantity of creases certainly improves the coat's glow (contrasted and comparative space coats with tight astounds) and should build the strength as well.
Fit and style: This coat fits consistent with size. It's serenely cozy without feeling tight or squeezed anyplace. I have a more extended middle, and this coat will in general ride up when I lift my arms. In any case, in decency, most pieces of clothing do that for me. I like how this coat feels and looks, however the "Citrus" shading is excessively suggestive of a jug of lemon-lime Gatorade for my preferences.
Pockets: The two zippered front pockets are liberal, effectively gulping my hand and a large portion of my lower arm. No lack of extra room there. There's additionally an inside zippered chest pocket implied for pressing the puffy away (see beneath), yet it's very huge and could be utilized to hold other stuff as well.
MicroTherm 1000 Cons
Lopsided down circulation inside each channel: The MicroTherm works really hard of relieving down relocation. The issue is that the down isn't equally circulated inside each divert in any case. It groups up in the center of each channel, leaving prominent holes where the level and vertical creases converge. These voids weren't no joking matter in gentle conditions, however as the temperature drops into the low 40s and past, they got recognizable—particularly on blustery days. A few scenes of intense shaking, rubbing, and tapping never really even out the fill. Trouble.
No snap rope at abdomen: Would very much want to see either a drawcord around the lower part of the coat to bolt unconscious drafts. On blustery days this would truly have an effect in the general warmth of the coat.
The Verdict
Eddie Bauer's Centennial MicroTherm 1000 is an energizing expansion to the ultralight down coat scene. It's anything but warm enough to be down to earth for four-season excursions, however it's ideal for exploring from spring to fall. It's somewhat expensive, and recognizable voids in the protection where the creases converge undercut the coat's glow. All things being equal: lightweight, capably sourced materials, including pined for 1000-fill down, in addition to smart plan and tender loving care, make it's anything but a look. I intend to continue to wear dig for lightweight warmth in gentle conditions.