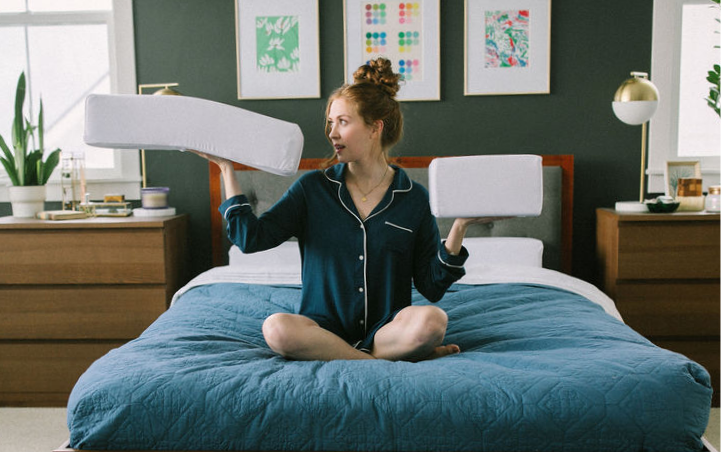 What is the specialty of Pillow Cube ?
Temperature Regulating:
Our 60° Comfort Carbon Core regulates temperature so you're not flipping the pillow all night trying to find the "cool" side.
Soft & Supportive:
Our carbon core fills the space between your head and shoulders while being soft enough to cradle you to sleep.
Soft & Supportive:
Our carbon core fills the space between your head and shoulders while being soft enough to cradle you to sleep.
Pillow Cube Collection
Pillow Cube CLASSIC
Napping on an airplane
Family road trips
Napping on the couch
CPAP machine users
People who don't like rolling but prefer to sleep on one side the whole night.
Pillow Cube PRO
People who roll from side to side during the night
People who want a pillow that covers their bed better/shaped more like a traditional pillow
People who want to use it for a body pillow
Pillow Cube CASES
Super soft
Super Stretchy
Custom fit for your cuboidal comfort
NOW AVAILABLE IN SNOWY WHITE or in new colors and patterns.
MOVE LESS – SLEEP MORE
70% of Americans sleep on their side, but 100% of pillows are made for back sleepers. The Pillow Cube makes it easier to sleep on your side by offering proper support for your head, alignment for your neck. When your body is comfortable during sleep, you move less and sleep more. Try the only pillow that is specifically designed just for side sleepers.
SIDE SLEEPING IS SUPERIOR
Sleeping on your side is by far the best position for you health. It is better for blood circulation, digestion, preventing, or reducing acid reflux and helps alleviate symptoms of sleep apnea and snoring (especially when sleeping on the left side). Side sleeping is also the number 1 sleeping position for spooning
MADE OF THE BEST STUFF
Think of the Pillow Cube as a bed for your head. We start of with mattress-grade high rebound Comfort Carbon Core that regulates temperature, keeping you cool all night long. We then wrap the tiny bed in an absorbent washable cover. Additionally you can buy our stretchy-smooth double-brushed, custom-tailored pillowcase. And we make them right here in the US of A.
What's Pillow Cube made of?
60° Comfort Carbon Core
Breathable Cool Cover
Stretchy Soft Pillow Case
FAQs
How do I know which size to order?
Measure your head to bed distance by standing up straight with your shoulder against a wall and measuring the distance from the wall to your head. Subtract an inch from that measurement and that is most likely the pillow size you will want. (For example, if your bed to head measurement is 7 inches, you will want to buy the 6 inch pillow). Mattress firmness can also play a factor in pillow sizing. If you have a very soft mattress, you may want to subtract 2 inches from your bed to head measurement. If you have a very firm mattress you may want one of the thicker pillows, because your shoulder will not compress as much into the mattress.
What If I Get The Wrong Size?
We want you to have the best experience with your Pillow Cube. Try it out for a few days and if you feel you have ordered the wrong size, proceed to our exchange portal at returns.pillowcube.com
What If I Also Sleep On My Back?
While the Pillow Cube was specifically designed for side sleepers, we have heard from some side/back sleepers saying that they enjoy the pillow too! But all in all, the pillow is intended for side sleepers.